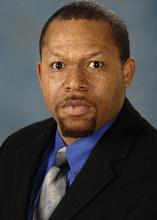 Leonard A Sowah, MBChB, MPH, is a medical officer at the Division of AIDS in the Complications and Coinfections Research Branch. He is a HIV Physician with several years of experience providing medical care to HIV and viral Hepatitis patients in the community. His professional experience in HIV and viral Hepatitis includes training of physicians in the US and internationally in the Caribbean. 
In his current role at the Division of AIDS he serves as the medical monitor on multiple studies in HIV and viral Hepatitis within the AIDS Clinical Trials Group (ACTG). He has served on many community groups including several years on the Baltimore HIV Services Ryan White Planning Council which he chaired from 2013 – 2014. He is a strong advocate for addressing barriers to care for marginalized and underserved communities. His research interest is on the impact of social and behavioral factors on treatment outcomes. He believes that treatment simplification, long acting/extended release formulations for HIV and associated Infections and other intervention that improve access to care will help control the syndemics of HIV and viral Hepatitis.
Dr. Sowah is an active member of the American Academy of HIV Medicine and serves on the Mid-Atlantic Steering Committee of this organization, He is the current chair of the Academy's Council on Racial Equity.
Conflict of Interest: I have no disclosures to declare.