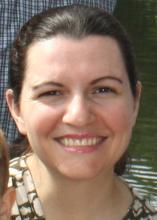 Magali Hickey is the Director of Formulation Development at Alkermes Inc., a global biotechnology organization with a research and development facility located in Waltham, MA. Magali has over 10 years of experience in the pharmaceutical industry with interests focused on development of small molecules into viable drug products. She additionally leads several efforts through external collaborations with academia aimed at understanding relationships between crystal structure and physicochemical performance of drug candidates.
During her career, Magali has provided technical/CMC support to 30+ regulatory filings worldwide, including submission of an NDA for aripiprazole lauroxil in 2014, and has contributed to publication of 60+ peer-reviewed journal articles, patents, patent applications and external presentations.
Prior to joining Alkermes, Magali spent 7 years at Transform Pharmaceuticals, a small company founded in 1999 and bought by Johnson & Johnson in 2005. During her tenure at TransForm, Magali held positions with increasing responsibilities in the development organization with accountability for programs ranging from early (Phase 1-2a) to late stage clinical study (Phase 2b-3).
Magali received her BS degree in Chemistry in 1997 from the University of Massachusetts in Boston and her PhD in Organic Chemistry in 2003 from Brandeis University.
Conflict of Interest: None disclosed.